family mountain holidays
Live a special family mountain holidays in Italy skiing on the ski slopes of Doss del Sabion, Pinzolo, Brenta Dolomites & Madonna di Campiglio!
Snowfood wants protect the families during their winter holidays in the Alps, we have adhered to the project "Family and Children's Ski family in Trentino", our alpine shelters are "family friendly" with special offers and promotions just for you!
What gives you this special family-friendly offer?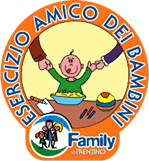 - Gluten-free products, vegetable broth and flour soluble
- Typical Trentino products
- Special spaces and services for families and children (birthday parties & anniversaries)
- Baby accessories (gags, bottle warmers, baby wipes, unbreakable dishes & special glasses)
- Attention to the service and waiting times: the children must be served first!
- Tables with rounded corners or with angles, easily accessible and placed for strollers
- High chairs or seats hanging
- Adequate sanitation for children's needs, equipped with changing tables, water adapter, sanitizing products for sitting, paper towels for single use, wet wipes and diapers for emergencies
- Indoor play area with games, books, papers and colors, puzzles, albums, etc..
Family Skiing in Trentino, the whole family with a single ski pass!
Doss of Sabion is a ski resort which is adhered to the special project "Family Ski in Trentino". This year this offer is not only for the residents in the province of Trento. By subscription, with the only subscription of mum or dad can ski all children! Discounts family also for the cross country. All information, subscriptions and booking here!